In celebration of Swiss National Day, I've crafted a menu of some of my favourite Swiss-inspired dishes. We're going "a little bit Italy" Almost all are gluten-free and coeliac-safe menu available from Wednesday through Sunday or until sold out:
COCKTAILS OF THE WEEK
Swiss Jam Roll Martini (seriously good).
Cassata Martini (like the ice cream dessert!)
WINES OF THE WEEK
2018 Framingham Classic Riesling (Marlborough NZ)
2018 Derwent Estate Lime Kiln Pinot Noir (Tamar Valley, Tasmania)
2020 Permission to Pivot  Cabernet Sauvignon (Mount barker WA)
BEER OF THE WEEK
Hargreaves Hill IPA (6.2%)
CHEESES:
Quince, Sage and Hazelnut Roll (house-made)
Roquefort (France)
Gruyere AOP (Switzerland)
L'Etivaz (Swiss Alps)
Abondance (Swiss Alps)
Chevrefeuille Crottin Goats Round (France)

The "Hubert" Experience is here!
Made on Sigrid's Great-Grandfather's original property, now Yarra Valley Dairy, and served on 160yo locally-sourced Elm cheese board. This 180g cow milk washed rind cheese pays homage to Charles Hubert, and is one of the best in the country. A sharable cheese feast!
TAPAS:
Hot Pork Scratchings & Apple Sauce (gf) OR
Smoked Salmon, Dill Neufchatel, Capers, Toasts, Lemon (gf avail) OR
Scallop, Celeriac Puree, Truffle Oil (gf)
BAKED BRIE:
Black Garlic, Dijon and Thyme OR
Peach, Pear, Almond & Sage
HOUSE CHARCUTERIE: Your choice of 3 of either:
House-made Apricot, Sage & Pork Terrine; and/or
Duck, Orange, Thyme and Grand Marnier Rillettes; and/or
Smoked Salmon, Dijon and Dill Butter; and/or
Brandy & Cointreau Chicken Liver Parfait, Kumquat and Gin Marmalade
Served with Nevra's warm toasted house Sourdough (gf avail)
TARTS:
Fribourg Tarts – Caramelised Leek, Dill and Gruyere (gf)
CROQUETTES:
Pulled Pork, Apple & Hollandaise (gf) OR
Seafood, Tomato and Grana Padano (gf)
SOUP:
24hr French Onion with Gruyere Croutons (gf avail)
SALAD: Swiss Alps Salat of Gruyère, Crispy Jamon, Greens, Pear, Walnuts, Red Onion, Honey Dijon Dressing (gf, v/vg avail)

MAINS:
Zurich Hot Pot with Rice (gf) OR
Fillet Mignon with Blue Cheese Sauce, Truffle Mash and Salad (gf) OR
Cheese Fondue (gf) with either Fondue Bread – 24hr Sourdough, cubed (gf avail)  OR Swiss Charcuterie (Swiss Sausages, Jamon, Cornichons, Onions, Dijon)
CRÊPES: Apple Strudel flamed with Rum, with Ice Cream (gf)
DESSERT:
The Swiss Ball, Air-fried with Ice Cream and Raspberry Coulis OR
Toberlone and Caramel Semi-Freddo, Caramel Mouse, Chocolate Soil (gf)
To download the menu in PDF format, simply click the button below (but it doesn't include all the specials!)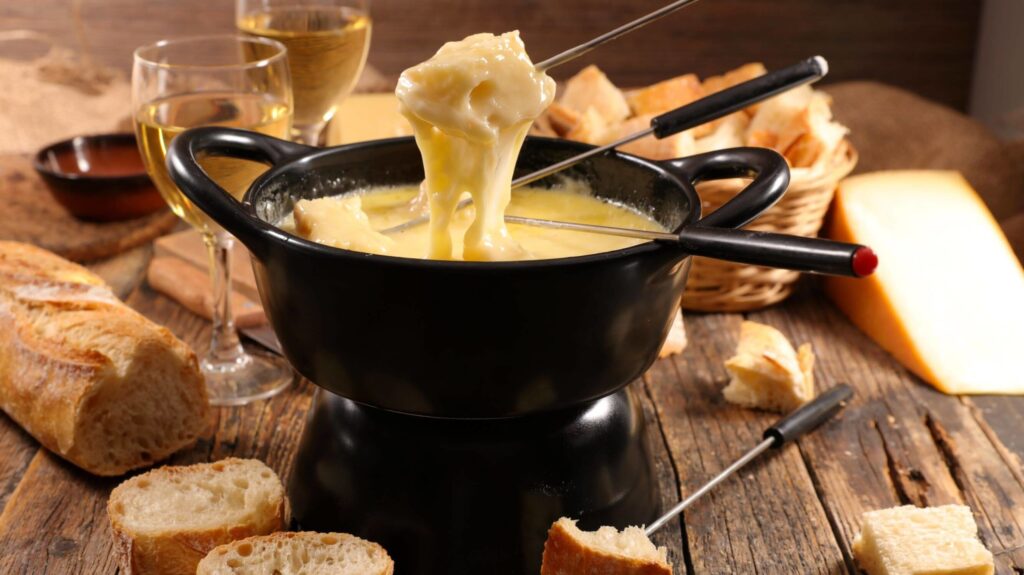 Authentic Swiss Cheese Fondue